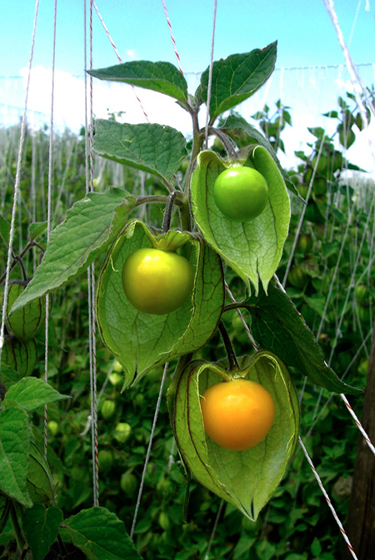 The Incaberry is indigenous to the high altitude tropical regions of South America. This exotic and delicious fruit will not only tantalise your taste buds, but its array of health benefits puts it in a class of its own.
Similar to a Cape Gooseberry, the Incaberry is a small fruit with a glossy orange-yellow skin that is surrounded by papery leaves. Once the fruit is dried it has a distinctive bronze orange colour. Incaberries are an amazing taste sensation - sweet with a fine and delicate sour finish. The taste is so unique, you just have to try them.
How to enjoy them
Incaberries are more commonly consumed as a dried fruit. Incaberries can be enjoyed alone or mixed with other fruits in salads. Try them in muesli and cereals for an antioxidant boost. Or simply add this South American twist to the classic cheese platter. The berries are exquisite when covered in milk or dark chocolate or when used as in ingredient in delicious cakes or exotic desserts.

Love to bake? A unique and distinctive ingredient, dried Incaberries are ideal for breads, cakes, muffins, biscuits, slices, scones, health bars and confectionery. Don't forget to use them in your Christmas cake and puddings. They can also be used in pastes, jams, and sauces. Incaberries are just sensational with chocolate. Try them in anything with chocolate, in slices, fudges, brownies, tortes, cakes, pastries and desserts.
Dried Incaberries don't stick together like other dried fruits and are free flowing product able to be easily packed and sold as snacks and in mixed nut and fruit packs.


Health Benefits of the Incaberry
Incaberries are the South American superfood, nature's nutritional powerhouse. Recent studies found these Incaberries to have an antioxidant capacity higher than Gojiberries and other major dried fruits. Dried Incaberries are very high in fibre with 19g fibre per 100g or 8g in a ¼ cup (45g). This is more fibre than 1 cup of a high fibre breakfast cereal or a salad sandwich on wholegrain bread.

But more importantly Incaberries contain soluble fibre necessary for controlling appetite and reducing cholesterol re-absorption in the intestine. They contain a wide range of nutrients including vitamin C, potassium and phosphorus and are naturally low in sodium.
INCABERRY NUTRITION INFORMATION

Qty per 100g
Energy
1220kJ
Protein
7.3g
Fat
Total
3.4g
Saturated
0.5g
Carbohydrates
Total
49g
Sugars
41g
Fibre
19.1g
Sodium
<1mg
Potassium
1500mg
Phosphorus
220mg
Calcium
24mg
Iron
3.1mg
Vitamin C
9.2mg
The Perfect Place to Plant
There are more than 90,000 vines planted on the farm which is at approx. 2500 metres above sea level. All of the natural vegetation of the area is maintained under a strict organic environmental policy and respect for nature.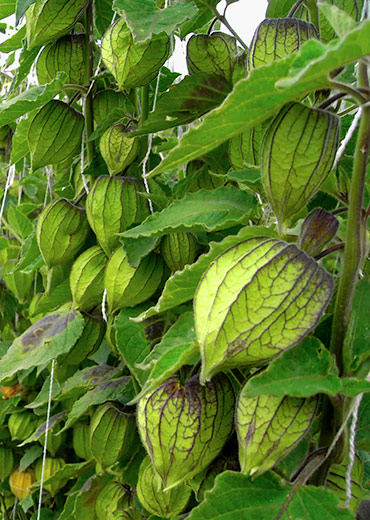 The cool year round temperatures which remain reasonably constant are ideal. There is continuous water available for irrigation and there are wells and reservoirs for water conservation and re-circulation.
Everything is managed so the Incaberries are of the highest quality possible.
The Seed Plot
Where the 'Baby Incaberries ' are incubated
Once inside the climate and environmentally controlled chamber with a temperature of over 25 degrees Celsius, the process of manual maceration is initiated. The pulp of the mother Incaberries is bathed in a container with water and lemon juice (which is a natural disinfectant), until the seeds separate and descend by their own weight to the bottom of the container.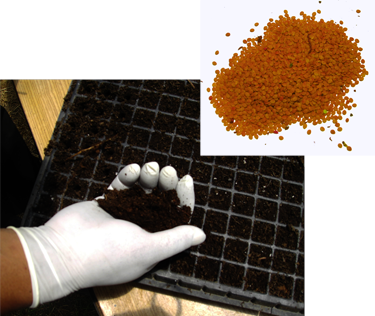 A Fundamental and delicate process
The seeds are dried and then go through a bacterial and fungicidal treatment. Once again they are dried, this time under shade on absorbent paper and will be closely monitored for the next 8 days. The seeds are then ready for planting in germination pods with a special mix of organic peat. At this early germination stage, the pods are placed under shade and kept for a further 12 days. New life beings and new Incaberry vines are about to be born.
To the Field Area
After the meticulous 6 week incubation process an anaerobic decomposition of the compost is performed, biologically degraded so that there is no risk of contamination. This fertilizer is then mixed in with the soil and the site is prepared to receive the plants. Plantation begins and the new plants will be nourished throughout their growth cycle to produce this exquisite fruit that will be tasted around the world.
Absolute care
It is important to note the farms are kept under a strict phytosanitary control to naturally eliminate pests, insects, bacteria and fungi. Corrective actions are applied to neutralise the PH of the soil and to improve the chemistry and physiology of the plants.
The Harvest
After five months of pruning, growing and taking care through minimum intervention farming practices, the organic berries will be ready for harvest. Harvesting of the Incaberries when they are ripe is performed by hand with care and attention to quality.
Management
Once harvested the organic Incaberries are transferred to the post-harvest warehouse, sorted and then taken to the plant for finished product development.
All stages of harvesting and processing is very labour intensive, so all workers are treated respectfully and fairly under governing labour laws.
The diamond must be Polished
Once harvested the Incaberries are processed under strict conditions and controls including ISO9001, HACCP and BRC certifications. Under these controls there are three main processes that are carried out:
Incaberries selected to be sold locally as fresh berries are washed and cleansed, pealed, selected, graded and packed.
Only the premium quality Incaberries are selected for drying through dehydration.
These are cleansed, pealed, selected, graded and then dried.
Once dried, they are graded and selected again, inspected and certified, then packed for distribution and shipping to selected markets to be consumed as a healthy and exclusive dried fruit.
Finished Products
All the Incaberry products are produced using the highest quality standards and packaging. You will be consuming dried Incaberries that have been cared for from the very beginning as seedlings right through to our highest quality finished products. There are no supply issues with our dried Incaberries as there is no seasonal crop production. Our Incaberries are constantly produced with freshly harvested fruit available on a regular basis throughout the year. As demand grows, more will easily be planted. We take great pride in our Incaberries which have Organic, GAP and Halal Certifications in addition to ISO9001, HACCP and BRC third-party independent certifications.
Pricing
We have the ability to offer year round stable pricing (except for large exchange rate movements. This pricing policy provides the opportunity to prepare long term R&D and marketing plans and gives confidence to manufacturers, packers, distributors, retailers and consumers.
Our Incaberry production, supply and pricing is stable, consistent and dependable.
Taking care of the Environment
The farms are located in an area where great amounts of virgin forest surround them which provides the ideal soil and growing conditions. The farming practices are based on conservation and protection of the region. Working with responsible environmental management, including recycling, using ecological machinery, and maintaining a

planting policy, allows the preservation of the fantastic environment that Incaberries have been blessed with.
The impressive Cotopaxi volcano creates a magical landscape and it motivates all involved to take care of the wonderful place in which they work.
100% Organic The Perfect Product and Other Forms
The organic fruit is certified by BCS and Bio Suisse and fulfills international norms of organic agriculture.
GB Commtrade was the first company to import 100% certified organic dried Incaberries into Australia.
Incaberries are now available as -
Organic Natural
Conventional all natural
Lightly Sweetened
Juice Infused Incaberries



All production processes are governed under international quality systems from the farming practices right through to the packaging of finished goods.
The crop is also certified by Global GAP to guarantee the quality of the organic Incaberries. The processing and management is conducted in accordance with the HACCP, Organic, BRC and ISO Certifications and principals.
Nutritional Information
DIETARY FIBRE OF COMMON DRIED FRUITS
Nutrients in Incaberries

Nutrient
Average quantities per ¼ cup (45g) serve
Average quantities per 100g serve
Energy (kJ)
549
1220
Protein (g)
3.3
7.3
Carbohydrate total (g)
22
49
Sugars total (g)
18.5
41
Fibre total (g)
8 (27% RDI)
19.1 (64% RDI)
Fibre soluble (g)
1.8
4
Total fat (g)
1.5
3.4
Saturated fat (g)
<0.2
<1
Vitamin C (mg)
4.5 (10% RDI)
9 (20% RDI)
Sodium (mg)
<0.5
<1
Potassium (mg)
675 (18% RDI)
1500 (40% RDI)
Phosphorus (mg)
99 (10% RDI)
220 (22% RDI)
ORAC (umolTE)#
1743
3874
Gluten
0
0
Recipes for Incaberries
Try some of our great Organic Incaberry recipes...
Incaberry Christmas Cake
Duck with Incaberry sauce
Spiced cous cous with Incaberries
Burgers with Incaberries and feta
Curried Chicken
Roast turkey with Incaberry and macadamia stuffing
Scones with Incaberries
Double chocolate and Incaberry brownies
Incaberry muesli slice
Incaberry paste
Sticky date and Incaberry pudding
Banana and Incaberry Muffins
Cocoa and Incaberry Brownies
Incaberry Flapjack
Incaberry and White Chocolate Cookies
Raw Choc Incaberry Rumballs
Gluten-Free Incaberry Brownies
Dark Chocolate Incaberry Clusters
Incaberry oat breakfast bars
Salted Caramel Easter Egg Rocky Road
Carrot Ginger & Incaberry Cake
Thanks to Morena Chef Alejandro Saravia for this recipe
Incaberry and Marshmallow Dessert
Thanks to The American Club for these great recipes
Blini with sliced smoked turkey, cream cheese and Incaberry relish
Peking duck pancakes with spiced Incaberry dipping sauce
Vegetable and Incaberry arrancini with Incaberry and tomato salsa
Goat's cheese and Incaberry relish tarts
Crispy chicken dumplings with Incaberry dipping sauce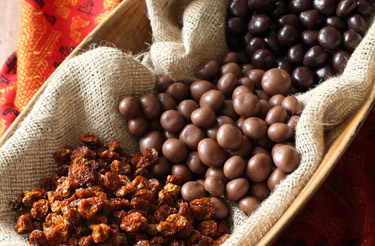 Consumer information
Prepare for a berry battle. Put aside those unpleasant tasting gojiberries or bran flakes, finally there's a super berry with a super taste. We are accustomed to sacrificing flavour and enjoyment for improved health and wellbeing. This is no longer the case with plump, sweet, naturally nutrient rich Incaberries
A few tips on how to include Incaberries in your healthy diet
Add to yoghurts, cereals and muesli for breakfast
Soak in juice or water overnight and blend in to your smoothie
Enjoy a handful to keep you satisfied in between meals
Add to your favourite nut & fruit mixes to enhance the flavour
Add Incaberries to your salads for something new and exciting
Use in place of sultanas, raisins, gojiberries or blueberries in any recipe
Use on cheese platters. Incaberries compliment cheeses of all kinds
Make an Incaberry paste (see website) and spread on cheese & crackers
Use in your casseroles, stews, curries, soups and include in stuffings
Use in place of sour cherries for something new and special
Snack on nutritious Incaberries instead of chips, biscuits or muffins
Chocolate coated in milk chocolate or the healthy 70% cocoa dark
Try them in breads, cakes, scones, muffins, slices and biscuits
This year try them in your Christmas cake and puddings
Sensational with chocolate. Try them in anything with chocolate, in slices, fudges, brownies, tortes, cakes, pastries and desserts
Make them into amazing jams, pastes and chutneys
Great cooked in your main meals in place of other dried fruits
Have a look at the recipe page for some ideas !
Where to buy Incaberries

Click here to search for a store near you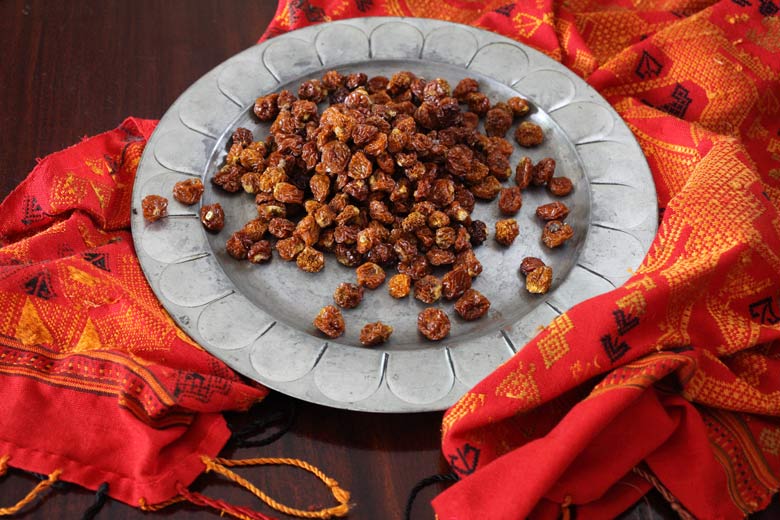 Distributers
For distribution and bulk sales please contact the following suppliers in your state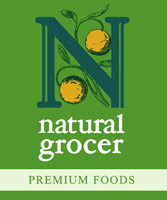 The Nut Stand Company and The Natural Grocer
56-64 McCauley street Alexandria NSW 2015
T: 02 9319 4143

The Nut Shop Factory Shop
20-26 Allen Street Waterloo NSW 2017
T: 02 9319 6574

The Nut Shop Cavendish House
Shop 230A Lvl 2 Westfield Shoppingtown Chatswood NSW 2067 (Next to Nextra Newsagency)
The Nut Shop Shop 25 Strand Arcade Sydney NSW 2000
Honest to Goodness Organic Food & Natural Food
Unit D1, 46-62 Maddox Street
Alexandria NSW 2015
T: 02 9420 3761 F: 02 9420 3762

Trumps Pty Ltd
23 Parmarig Place, Rocklea, Brisbane, QLD
T: 07 3274 7111





Kakulas Brothers
183 William Street
Northbridge 6000 WA
T: 08 9328 5285
www.kakulasbros.com.au



Prolife Foods
92 Maui St Hamilton 3200 New Zealand
PO Box 1075 Hamilton 3240 New Zealand
T: +64 7 834 3333 F:+64 7 834 3332
www.prolifefoods.co.nz



Contact us Head Office
Unit F 36, Building F
16 Mars Road
Lane Cove NSW 2066

PO Box 175
North Ryde NSW 1670
Australia
Tel +61 2 9420 1222
Fax +61 2 9420 2288

Email:
Website: www.gbcommtrade.com.au





Website design and photography by AcousticArt and Design
Location photography from Ecuador by DC Gabriel Andrade Gil
Contact form
* required
Send us your message and we will get back to you as soon as possible
© GB-Commtrade, Australia. No portion of this page, text, images or code, may be copied, reproduced, published or distributed in any medium.